Decorative tin containers and tin packaging from Tinscape.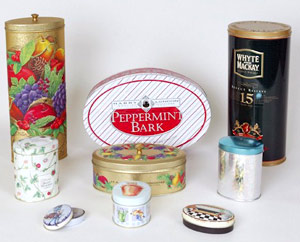 Our portfolio of tin structures is limitless. If we don't carry a size that fits your needs we can build tools fast and economically. These structures pictured are just a few examples for each category.
We also offer decorative tin containers, customs tins, & decorative custom paper boxes among other products. Tinscape has everything you need to make your product stand out from the competition's!

Not convinced? Check out a few samples of our products by viewing the gallery below! Why settle for boring standard designs when you can get custom paper boxes from TinScape?

Interested in something else? Take a look at our decorative tin containers, custom tin, and decorative custom paper boxes and see how TinScape can revolutionize your products!